Acti Floc Liquid & Granules
Liquid and fast pool flocculant for a fast clear water.
RangeACTI
CategoryFiltration
ApplicationWater balance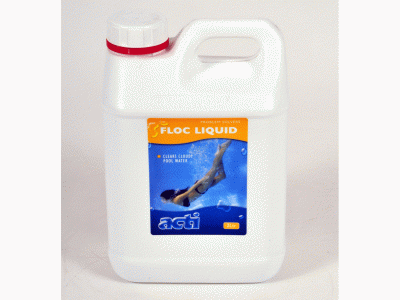 Previous name: Acti Floc Liquid
Effective at any pH between 6.9 and 7.8.
In compliance with EN 15031: Chemical products used for treatment of swimming pool water.
Instructions for use
Private swimming pools
Acti Floc is used with the filtration system turned off and after it has dissolved in 10 litres of water; the solution obtained is then spread into the pool using a watering can.
Allow it to take effect at least overnight and then clean away any dirt from the bottom of the pool with a vacuum. Discharge it directly in the sewer.
Public swimming pools
Acti Floc must be injected and not diluted by a metering pump, before the sand filter, directly from the can or by means of a conditioning tank.
Dosage
Private swimming pools
Curative: In the event of high cloudiness or after "shock chlorination", add 0.5 litres of Acti Floc for 30 m3 of water.
Preventive: 0.2L for 50 m3 of water per week.
Communal swimming pools
Daily consumption varies according to the use and environment of the pool. It is between 0.5 and 1.0mL/m3 of recycled water for a covered pool and between 1.0 and 2.0mL/m3 of recycled water for an open-air pool
Packaging
1 Litre, 3 Litre, 5 Litre and 20 Litre container.