Acti Salt - EN
Fast dissolution without residus salt for pool water treatment.
RangeACTI
CategoryDisinfection
ApplicationDisinfection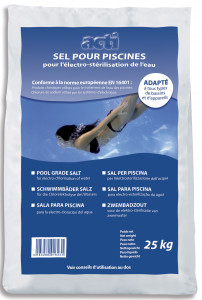 In compliance with EN 16401: Chemical products used for treatment of swimming pool water.
Sodium chloride used with electrochlorination systems.
Instructions for use
When openning the pool: adjust the salt rate in order to have the suitable rate for the electrochlorination system.
During the season: adjust the salt rate link to backwash or important renewal of fresh water.
Dosage
25kg of Acti Salt in 10 m3 of water, increase the salt rate by 2.5 g/l.
Packaging
25kg bag