Acti HP Shock Granules
Shock treatment for your private and public swimming pools
RangeACTI HP
CategoryDisinfection
ApplicationDisinfection HP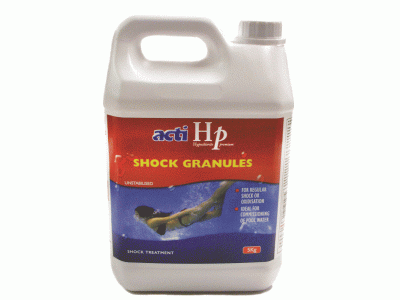 Previous name: Acti Rapid Shock
Regular treatment is required for a public swimming pool.
Acts against problems related to overstabilisation.
Instructions for use
Acti HP Shock is added into the pool, after complete dissolution in a bucket of warm water, while the filtration system is operating without any swimmers.
Dosage
Shock chlorination: 150g for 10m3 of water
Public swimming pool: In the packaging container of the metering pump, dissolve 2 to 2.5kg of Acti HP Shock for 100 liters of water.
Packaging
2.5kg and 5kg bucket