ACTI Chlorine Shock Tablet
Efficient pool water shock treatment: stabilised chlorine shock for your pool water.
RangeACTI
CategoryDisinfection
ApplicationDisinfection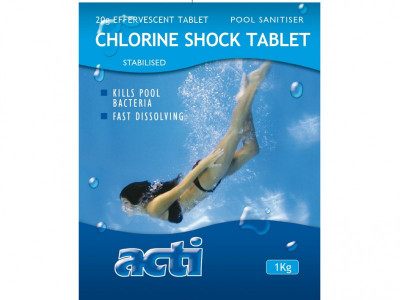 Acti® Chlorine Shock Tablet

These stabilised chlorine tablets are ideal for the daily dosing of your swimming pool water. They are rapid dissolving and will have little effect on the pH.
Instructions

1. Always maintain pH level within the range 7.2 – 7.6. If the pH level is outside the ideal range please adjust.
2. Maintain free chlorine levels within the range 1.5 – 3mg/l (ppm).
3. Because of the quality of this product it can be dosed directly into the skimmer of the pool (without any other other products already inside it). For pool water temperature below 20°C or non circulating water, this product should be pre-dissolved in a clean and un-contaminated plastic bucket and distributed evenly around the pool, or used in a floating dispenser (without any other other products).
4. After pre-dissolving add the resulting solution to the pool near the inlets with the filtration system in operation.

CAUTION: THIS PRODUCT MUST NOT BE MIXED WITH OTHER CHLORINES OR ADDED TO THE POOL THROUGH A FEEDER OR SKIMMER CONTAINING ANY OTHER PRODUCTS.
5. It is recommended that you shock dose your pool once a fortnight, or more frequently in hot weather using Acti Rapid Shock Granules.